Authentic Trappist Product
Today's post is going to be about one of the finest beer style. And even though these beers are brewed only in seven abbeys in the world, every person who is interested in beers should know them, or at least hear about them. Trappist beer is a kind of strong, Belgian beer. It traces its origins back to Middle Ages and tipples brewed in monastic vats. This style was revived, and finally shaped in the mid-20th century. Trappist, also called Order of Cistercians of the Strict Observance originates from La Trappe – a Cistercian abbey in France. So, it is easy to conclude origin of the rule name. By judgment of Ghent trappist beer can be produced in six abbeys in Belgium:  Bieres de Chimay, Brasserie d'Orval, Brasserie de Rochefort, Brouwerij Westmalle, Brouwerij Westvleteren, and Brouwerij de Achelse Kluis and one Dutch – Bierbrouwerij de Koningshoeven. The profits from beer sale are voted to monks' needs, maintenance of monastery and charitable purposes.
Today, our hero would be a beer derived from Dutch abbey – Koningshoeven, La Trappe Dubbel. The brewery within the abbey was established in 1884. In the period from 1969-1980 an abbey granted the license to produce the beer to the brewery Artois (currently InBev). After the expiration of the license the monks got back to the brewery by introducing to the production the classical beers: dubbel and triple. Because monks were getting old there was a shortage of labor, so in 1999 copartnership with German capital was established. The copartnership was now in charge of the production in brewery. These actions led to feud with the International Trappist Association, which watches over the authenticity of the products which are signed by monastic etiquettes.  As a result, the monastery was deprived of the law to use the logo of trapists' beer. In 2005 organizations reached an agreement; La Trappe is again an original tipple, and monks are obliged to watch over the functioning of brewery for a several hours each day.
Now, before we proceed to sampling I would like to mention two interesting facts. Trappist beer should be drunk while its temperature is between 8 ºC and 14 ºC, so generally speaking, the stronger the warmer. It extracts the best qualities from the tipple. The second thing is that the glass to drink trappist beer should be as thin as possible, and in a shape similar to brandy glass. Obviously, as befits monastic beer La Trappe is re-fermented in bottle. It's also worth paying attention to use-by date. The dubbel which I bought was 2.5 years old and I guarantee you that even later it would taste delicious. This beer is almost like wine – the older the better.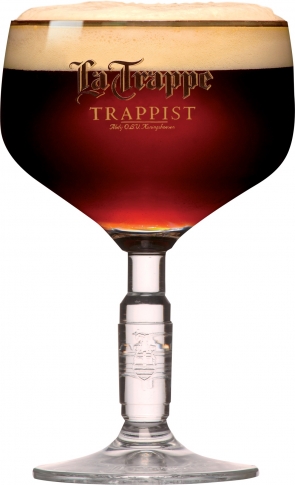 Ingredients: water, malted barley (Munich, pale, caramel), glucose syrup, hop, yeast
Colour: 82 EBC
Bitterness: 22.0 BU / I
Shelf life: 30 months (bottle)
Available in: 30cl (6-pack), 33cl, 75cl