Today, to celebrate an International Beer Day, I want to tell a story about remarkable beer. Not everyone tried, not everyone likes, but almost everyone has heard about it. Witbier, la bière blanche, Belgian white, wheat beer with a hint of coriander and citrus. Blanche de Namur, one of the best Wit beers on the market, will serve as an example.
This style with 400 years of tradition disappeared from the market in '50s in 20th century. It was associated with an expansion of our "favourite" lager. The fact, that now we can sip white Belgian beer is possible thanks to one man, Pierre Celis. He reactivated witbier in 1966.
Why is witbier so unusual? The soul of this beer is its seasonings. Aromatic, citrus-peppery coriander and bitter orange peel called curacao. According to beer there are also: camomile, cumin, cinnamon, aframomum melegueta. If we add to that high saturation and citrus sourness, we would get remarkably energizing, light "summer" beer.  White beer is mainly made of non-malted wheat, and sometimes a hint of oats.  Gentian hop is barely noticeable. Extract usually total 11-12%, alcohol rarely exceed 5.5% volumetrically. Colour should be straw-yellow; Blanche is cloudy because of the presence of starch and yeast.  This tipple is generally served in hexagonal glasses or tall beer glassware, sometimes "barbarian" serves it with a slice of lemon.
Blanche de Namur originates from brewery Du Bocq in Purnode. This brewery located in Walloon part of Belgium produces about 74,500 hl of beer and hires 45 people. It remains one of the very few Belgian breweries that are still a property of a founder's family. The institution was created in 1858 and from the onset of its activity was specialising in the top-fermenting beers.  Today it produces only native Belgian styles: witbier, blonde, brune,  tripel, dubbel, saison.
Now, let's focus on Blanche de Namur:
Brewery: Du Bocq
Name: Blanche de Namur
Grade: white Belgian/witbier
Etiquette: Styling is quite simple, blue etiquette, in the background there is a white graphic depicting a city. In the foreground there is a name of beer, printed in gothic style. There is no way to look past this beer on a shop shelf.  Fine, white bottle crap with a name of beer completes the whole nice-looking image.
Colour: Straw-coloured, a little bit lighter than a photo presents (depending on lightning conditions)
Foam:  We can relish fluffy, white foam from the first sip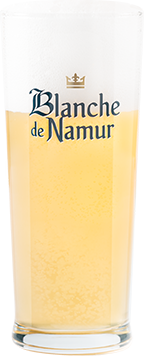 Smell: Wits are divided into the ones with rather citrusy and the ones with more coriander scent. In Blanche de Namur coriander, very strong, herbal-pepper is a dominant smell. In the background, as a supplementation, citrus combined with a yeasty aroma and sweetness of honey can be felt.
Taste: An incredible sourness of citrus peel and high saturation makes beer deliciously bracing. And the taste of coriander imparts sharpness. And if that weren't enough, we can find here fruit flavours, typical for top-fermenting beers. Blanche is nicely balanced and remarkably dainty.
Conclusion: If you like wheat beers or you are looking for "your" tipple to relish its taste during the summer, you have to taste witbier. If you started your experience with wheat Belgium beers, and the first tipple you drank was strongly commercialized Hoegaarden, it's high time to feel how the original bière blanche tastes.